23910 Village Drive. Richland, Missouri 65556

Phone:
(417) 453-6601

&nbsp
GSD@Waldenhaus.com
"Excellence in German Shepherd Temperament is our Specialty and our Breeding Standard for Over 30 Years"

"Letters of Reference"

Copies of original letters available upon special request ( with permission of owners )
FROM: Joann M.
Colorado Hello,
Thank you for the Holiday Greetings! We are enjoying Luka immensely. She is quite a bundle of personality! She loves her greyhound and likes to use him as a chewtoy. He loves having a baby sister, someone to run with and sleep with. They frequently curl up together for a nap, each using the other for a pillow, and thereby cover the floor with a big pile of dog. And she really loves her five-year-old! And more than that, she loves playing with her boy and her greyhound in the foot of snow we have, and the below zero temperatures we have! It's hard to get her to come in the house when it's cold out - she would stay out all day playing if we would let her. She's getting very good at chasing after Alex while he's riding his bike around the house, so we're well on our way to turning her into a trail dog. She also does amazingly well on the leash, she's already learned not to pull. We love this dog dearly! Having two dogs is at times a bit much, but I'm glad we did this - the greyhound is much happier, and Luka is an absolute joy..

Happy Holidays!
---
Below is a letter written by Steve and Lynn T. to a prospective new owner (Mary Ann)
in response to an inquiry about us and their trying experience with a dog purchased from another kennel.
* * *
Steve and Lynn T
Maryland

Mary Ann,
Thanks for your e-mail asking about our experiences with Coltrane, Dakota, and Vom Waldenhaus. We're pleased to answer these questions.
As background, we had a female German Shepherd Dog, Dolphy, who we got elsewhere several years ago. Dolphy was a wonderful dog for us and was an integral part of our family. Objectively, however, Dolphy had problems. At an early age, it became apparent that she suffered hip dysplasia bilaterally. The dysplasia was severe, and was acknowledged as such when we showed her x-rays to the breeder from which we got Dolphy. We of course chose not to avail ourselves of the terms of the breeder's guarantee -- return the dog for a new one at half price. Who would want to give back their dog after raising it from a puppy, and what would the breeder want to do with the dog?
Another problem with Dolphy was her temperament. Although she was always wonderful with family and friends, she was a fearful dog and we worried about her biting someone out of fear. She had trouble with children, and a thunder storm would send her quivering to some hiding spot. So although we loved Dolphy as our dog, there were physical and temperamental aspects about her that were quite problematic.
Last Fall, Dolphy got an infectious disease called leptospirosis (having nothing to do with genetics). Lepto caused Dolphy to experience severe kidney failure that was irreversible and incompatible with a good life. We decided that we wanted to get another German Shepherd Dog. Given our less than perfect experience with the previous breeder, we launched into a vigorous search for the best breeder of GSDs. Our search took us to a noted author/trainer of GSDs, to an officer of the breed's national association, and elsewhere. Some of the research we did was via the web, and it was there that we found the website of Vom Waldenhaus. At first we had some reservations about getting a dog from Vom Waldenhaus; these were price, not meeting the dog and its parents and its breeder in person, and sending a pup on an airplane ride for delivery to us. The more we looked, however, and the more we compared breeders and their dogs, the less important our reservations grew. We had extensive communications by e-mail with Susan at Vom Waldenhaus, we daily studied their comprehensive website, and we ultimately got videotape of the puppies. We were convinced and purchased two puppies. They, Coltrane (a male) and Dakota (a female), are the dog owners' dreams. They are beautiful and handsome, highly intelligent, healthy, and, most importantly, of great disposition.
To provide you with just one of many possible examples of their disposition, two days ago Coltrane was chewing on a beloved rawhide chip. I got worried when the chip reached its gooey stage that it could pose a choking hazard, but at that stage it is also the ultimate delicacy for Coltrane. I opened his very large mouth and took the rawhide out of the back of the mouth. Coltrane looked at me with understanding. I still have scars on my hands from getting too close to the mouths of my boyhood dogs when they were chewing something they liked. It's inconceivable to me that Coltrane or Dakota would ever snap in my direction. The pups are now about 10 months old. Coltrane must weigh about 100 pounds, and Dakota is probably in the mid-eighties. Their health has been excellent...
Raising two GSD puppies at the same time has its pros and cons. The pups are wonderful friends to each other, and provide each other with more exercise than we would give them. On the other hand, their interest in each other is so strong that at times it seemed that they had less interest in us. This seems to be changing as they mature; they still love to play with each other, but they also now give considerable attention to us. Lastly, we should emphasize the very excellent interaction we have had with the Forrest family. I believe we may hold the record for number of questions asked, both before and after receipt of our dogs. Each question was answered promptly, knowledgeably, and with a friendliness that defies description. By the time your dogs are gaining some maturity, Susan Forrest is an unofficial but welcome member of your family. We recommend Vom Waldenhaus, the Forrests, and their dogs without reservation. You can do no better, and sadly, one could do much worse if you are not careful. The dogs are worth every penny you'll spend, and you'll spend years with your dog in gratitude that you found Vom Waldenhaus.


Steve


Coltrain

Dakota
P.S. from Lynn - We also researched German Shepherd breeders extensively before we found our first dog's breeder who we chose because we felt that they were diligent in breeding their bloodlines to raise temperamentally and physically sound dogs. We had a tremendous fear of hip dysplasia, and couldn't believe it when Dolphy's was determined to be severe. Again, in fairness, hip dysplasia can turn up in the best of matches. My concern was that when we spoke to the breeder, he acknowledged that in terms of temperament, Dolphy was a chip off her mother's block, which meant they knew they were breeding a dog who was highly territorial and protective. I know you can get a wide range of levels of confidence in any litter, but Dolphy's timidity (she wasn't a wimp, just had a tendency to lunge and be aggressive at times out of fear) was a clear characteristic of her mother's, and the breeder was incredibly silent about other hip dysplasia experience in their dogs. Bottom line, I did not have feel confident in the breeding practices. Not based on any hard facts, just a gut feeling. Then, to discover the Vom Waldenhaus shepherds, there was no way we were going to go any other way. We were so crazy about them, we lost our heads and got two even though we had another puppy in the house living with my mother!
These dogs have incredibly sweet and sociable temperaments for any breed of dog, much less shepherds. They're incredibly smart, but because we have two little devils, the training will be a longer process with them. Inciting one another, they also could pick up an amazing amount of speed in the house when they were little puppies. Although I wouldn't trade our experience in raising two at the same time for anything, I would advise anyone to do it one at a time.
Dolphy was a gorgeous dog (I guess everyone thinks their dog is the most splendid animal there is!), but these dogs are magnificent. Their bodies are sounder, bigger, and their coloring is so beautiful. Dolphy was almost all black, and these guys are pretty black with a lot of red and some tan, and they're elegant and striking. I guess you can tell my bias - the Forrests all the way. You'll have a great experience with them and a most wonderful life with your dog(s).


Lynn
---
Kim S.
Montana


Dear Forrests:
I'm really sorry I haven't written sooner, but I've been on the road a lot (with Luke, of course). We drove cross country the end of June to visit my folks in upper Michigan, stayed for two weeks taking care of some family business, then drove home. Luke was terrific. He loves everybody - he's very outgoing and happy just like you said he would be. He's been doing puppy search and rescue training (some basic obedience and lots of fun "hide-and -seek" and "chase-and-find" games) He really seems to like it.
Luke became very well socialized the first month I had him. Lots of car time, motorboats, bikes, horses, llamas, little toddlers to big kids, other dogs, (lots of those!), the Vet and many many people of all ages. He also loves water and likes to swim.
People always remark what a beautiful dog he is. His coloring is quite pretty right now-black nose, red face and ears, red legs, cream belly and black tail. His ears stood up at 15 weeks. Boy are they big! And his tail still drags the ground a bit. He's so cute!
Right now, I'm in Idaho working as a wilderness ranger. The Forest Service lets me bring Luke on my hikes and back pack trips. I let him sleep in the tent with me, but he does try to hog my sleeping bag and pad. He's very agile and isn't the least afraid of crossing the logs over streams or climbing up big rocks.
I have pictures in the process of being developed, so I'll send those off when I finally get them back, (I had to mail them off - no photomat where I am!)
I hope everyone else is enjoying their puppy as much as I am. Because he is so independent, I do need to remind him who "top dog" is occasionally. He learns things very quickly, but likes to test me. Keeps me on my toes. And what a great nose!


Thanks for breeding such great dogs-
K.S. and Luke(Vom Waldenhaus)
Pictured below, Luke is an incredibly personable, large sized, black and red, 5 month old male out of Jagos and Tomra. He weighs approximately 60 lbs. He will top out at around 95 lbs to 100 lbs. when fully mature. Luke has an excellent disposition and is very willing to please. He shows good tendencies to have very strong natural protection instincts. He has good "ball" drive and good play / prey drives. His new owner and trainer in "Search and Rescue", says about these pictures"... Luke probably has a serious look on his face because he was running around the meadow and I made him sit for a picture (he's probably scowling at me...) Also, he was slouching so he looks smaller than he was.
People can't believe how friendly he is. I hope you don't think I'm rushing him into things- I'm being careful to make sure he stays happy and enthusiastic. Actually, the search and rescue people think I started him late (most pups are started at 8 weeks). He has a very active mind and needs to use it to keep out of trouble. I have to say, that he's very good with his toys and hasn't chewed up anything of mine (yet). He's also very quiet-he only barks if there's a reason.
I can obviously do what I'm doing with him because you've bred such great dogs! And it shows! Maybe down the line I'll get another one to keep Luke company. Thanks for the great work.
| | |
| --- | --- |
| | |
---
Linda D.
Georgia

Things are going well here, especially when it comes to Mercedes. I just don't get enough of her, watching, playing, growing together, etc. Everyday a new experience. Very strong prey/ and play drive now. Her priorities now are being my "shadow" playing ball at any hour (non-stop) and chasing the birds, insects, and squirrels. She is now a heft 54 pounds I think, still trying to fill into those big ears and long tail. Seems like we are rarely apart these days. Although, now, getting too hot to take on every trip and leaving her in the truck. That's the sad part, and she does not quite understand.
Susan, I would be more than happy to talk to Denise A... here (absolutely!!!) about buying the sister to Mercedes. Can't believe there will be another VW Kennel Shepherd here in Atlanta. I think we have something going here.! But yes, please tell her I would be glad to speak to her (in person, or email, whatever) and would love to share my pride and joy. To have a sister of Mercedes here for awhile would be fantastic. Please give her my number... Can't wait to talk to her.
Birgith/Nikki, I and Mercedes have become good friends and now we meet 2 times a week at least for our morning strolls through beautiful Peachtree City. Nice walking trails everywhere. Birgith just got back from a trip ... I missed them for 3 weeks... We just have fun together. Its a blessing for us. So I imagine you have been busy with the last two litters. Hope everything went well, and that you get some rest time this summer. Now you can just sit back and listen to all the puppy stories coming in. Carl J... still keeps in touch with me now and then about Beau. We hope to meet soon when we are in the area closer. He is a big boy from what he tells me. All my family and friends are already asking for puppies from Mercedes with that "sweet loyal disposition" They think she is so cool and BEAUTIFUL.
I promise some pictures are coming soon of Mercedes. I have a couple of good ones I think now to send. Birgith and I will be sending them through her scanner and computer this week. Thanks for emailing, it was good to hear from you. Hope all the family is doing well. Have a good summer.


- keep in touch.
L.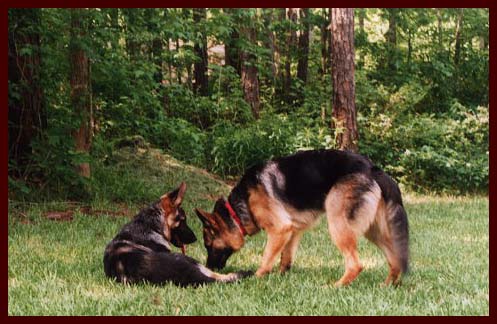 Mercedes (Right) and Nikki vom Waldenhaus (Left)
Vom Waldenhaus cousin's becoming friends and establishing a new friendship between their owner's in the Atlanta area.
---

Elsa, enjoying the lake
Laura C.
Texas

Dear Susan, Tom, and the entire family,
Have been checking out your website lately and wanted to let you know that it looks wonderful. I like to browse it and look at the pictures, especially the puppies when I have some free time.
Blitzen and Elsa are doing fine. They are finally mature, Blitzen is a most handsome dog and Elsa is extremely pretty. Will send more recent pictures.
I love the litters you have coming up. The parents are all stunningly gorgeous and it looks like they will be great puppies. I would love to have a puppy from any of those litters you have now, however we are not ready for a pup right now, but it sure is tempting! Maybe next year. How do you think the two adult dogs would feel about having a puppy around? Would that create any problems?
I will keep in touch!


Laura C.
* * *
Susan,
Thanks for writing back. Yes, Elsa is just about the prettiest I have ever seen. I wish you could see her in person. She has the personality to match that beautiful head. She is a charmer. Our Veterinarian in Colorado used to call her "Ms. Personality Plus".
Well, I will look forward to seeing photos on your website, we love to browse and look at all the beautiful dogs you have right now. Indeed we are envious of all your animals and hope to have a few more one day!

Laura


Blitzen is very happy to be getting a new sister from Vom Waldenhaus!
---
The McK. Family
Illinois

Hi!
We made it back an hour ago. Ganz was a trip to watch while he tried to negotiate the stairs up from the garage. Jack finally ran out of patience and carried him up. Ganz was introduced to Aura and the meeting went well. At first Aura barked and treated him like an intruder, but a few words of praise to her calmed her down and within 5 minutes, they were playing together.
Ganz was an absolute angel the whole way back. We never heard a sound out of him. It was amazing. He chewed on his bones and looked around a bit and slept. What a temperament!
Ganz also meet the cats and has adopted Raz (Our Ocicat 8 month old kitten) as his "squeaky toy." The rest of the cats took to the high ground and watched him from a safe distance. As I type this, Ganz in laying next to me...Jack in the other room...
Aura is just a little bit larger than Ganz. His legs are bigger than Fritz'. This guy is huge!! He has taken everything he's been through today like it's just part of the normal routine. WOW!!
I'll give you another update on him tomorrow. We certainly enjoyed our visit today! Thanks for a wonderful tour and the insight you shared with us!


Kristina
Puppy kisses from Ganz


Ganz vom Waldenhaus
---
Christine W.
Texas

Dear Susan and Tom,
My photography skills are not the greatest, but you can see what a handsome dog Cedric is becoming. My Vet, who told me NOT to get a German Shepherd puppy, thinks Cedric is wonderful. He was 57 lbs. a couple of weeks ago and is growing like crazy. He reminds me of a teenager now. Testing the limits a bit and looking for trouble (chasing the cat or sneaking into the trash). He's still so affectionate and tries to get into my lap to sit! He is so even tempered---never takes offense when I have to fuss at him, but I will say that his conscience is still developing....
He has been an excellent watch dog from day one, letting us know when anything unusual is happening. I know when the UPS man is here before he makes it to the front door because Cedric let's out his "delivery man" bark. His favorite activity is to wake the kids up in the morning with a slurp and "hug"! My college age son will be home soon to meet him for the first time.


Thanks again,
Chris
---
Margaret B.
California
(An unsolicited letter from one of our satisfied customers, in response to an inquiry off of a Bulletin Board post.)

I found your message on the NASAR guest book. The best German Shepherd breeders in this country that I know of are: Susan and Tom Forrest at Vom Waldenhaus German Shepherds in Richland, MO.
Their e-mail address is: GSD@Waldenhaus.com
I own one of their magnificent pups (my 3rd, the first two are grown and are rescues from two other breeders!)
I can highly recommend them to find the best German Shepherd dog for you and your environment. They breed for temperament. They also have a wonderful 50-page website.
Contact them, and tell them Margaret B. (Zyn's MOM) sent you!

Good LUCK!
---
Rebecca R.
Maryland

Good Morning,
Just wanted to share with you that Hunter's transition from sleeping in a crate during the night to sleeping wherever he wants (within the confines of our bedroom) has gone flawlessly smoothly. The first night I think Craig and I were more restless than Hunter. We kept waking up for no reason..Hunter was sleeping..I took the sheepskin he had been sleeping on during the night in the crate and put it next to my side of the bed..And that's where he sleeps. (.I am waiting for the huge dog bed that I have ordered)... If all dogs were this easy... Taylor did not make that transition until a year ago....such different dogs. I have enrolled Hunter in puppy school..Nothing grandiose, just something to supplement what we have already been doing at home..Classes start April 1...
I hope that you are feeling better,

Have a Good Monday,
Goldy

>
---

Nikki vom Waldenhaus
Birgith A.
Georgia

Hi,
Nikki is everything we hoped for, she is so much fun and has brought a lot of life to the house. Hope you like the pictures.


Cheers,
Klaus, Martin, Birgith, and Nikki
---
Stacy H.
New Hampshire
I wanted to share something with you and at the same time offer you my thanks.

Ever since I was very young, I have held a great fondness for all dogs, which eventually led to a very specific admiration and respect for the GSD. When I first contacted you a year ago, it was with the intent to buy a dog and start breeding, which to me was buying an "impressive" male, studding him out and with the proceeds, eventually buying myself an "impressive" bitch and viola! I would be in the breeding business. But as my correspondence went on with you, and I read more carefully the things you had to say, and learned of the way you do things, I realized what a cruel thing it would be for me to just "manufacture puppies".
Once I learned about all the care you put into your kennels, and in your selection, I realized I know nothing about temperament, diseases, hip dysplasia or any of the things that could lead to a dog being mistreated, abandoned, sick or destroyed. I have always been the first person to speak out, and act out, on the mistreatment of animals..especially dogs. and there I was, possibly about to become a major part of the problem I have always so desperately wanted to see solved. So, for your beautiful and educational Website, your helpful and individual attention, for saving me from making a very cruel mistake, and your contribution the healthy and happy future of every dog you sell, I thank you, thank you, thank you.

Take Care,
Stacy H.

* * *


I just wanted to tell you how much I am enjoying Brute. He has developed very nicely. He was a nice, strong, healthy, 94 lbs. last week when he went to get his shots. (To be honest I never would have thought he weighed that much. He sure doesn't look it.) He is a wonderful, loving companion and everyone is just in love with him...including his veterinarians.
Every time I take him out someone comments on how gorgeous he is and a few people have asked me if I want to sell him...which of course, I do not. When we drive by in my Jeep, people doubleytake to look at him. He is quite a celebrity around our little town. He loves the lake and the other dogs in the neighborhood, and he's the first one my 2 year old nephew Riley asks for when he comes over. Everyone who comes to visit wants to take him home because he's such a sweetie...

Take Care,
Stacy and Brute
---
Susan H.
California

Susan H. wrote to us:
Here's the letter I wrote back to Tanya. Hope it helps on her deciding on a pup!

* * *

Hi Tanya!
Thanks for writing regarding purchasing a pup from Vom Waldenhaus. Greta is now 13 mo. old, and is a wonderful dog. She is intelligent (too much for her own good sometimes!), beautiful, GREAT around kids, and is a very good watchdog. So, I think that you would be making a great choice in picking one of their pups to buy.
Greta is a Xaro/Herzogin pup and has a very outgoing personality and not shy of anything! She was housebroken in 2 days (only 1 accident, no kidding!), and that alone says a lot about the breeder. They take the time to crate train them when they are young, so the housebreaking part is a breeze! And because they are so smart, they understand and pick up things quickly.
I am doing Schutzhund work with Greta and she is really doing great in it. Her nerves are so strong, unlike a lot of other GSD's, so her protection work is coming along great! Plus, she is a great tracker and her obedience training should go well also. She loves the work, and gets bent out of shape if she misses a week of going to the club! I hope to title her at least to a Sch I, and I'm sure she will go farther than that. She is a pleasure to work, and it is really good for her mind.
I agree german GSD's are the only way to go. And after researching and dealing with a lot of GSD's in the sport of Schutzhund, I find that it is rare to have one with such a great temperament. It is the hardest to breed for, and Vom Waldenhaus does a terrific job at it. Susan Forrest has always been great to deal with. Those pups are her babies, and you should trust her opinion on which pup to get based on what you want to do with him/her. I was 3rd choice on the females of the litter, and there were only 3 females in the litter. But I got the one I wanted, despite being 3rd on the list, because... one lady was elderly, and she suggested the pup that was more laid back in nature. The other family already owned a Vom Waldenhaus dog, and the other 2 girls were really spunky, so I didn't care which one I got of those two. But I prefer a darker color, and Greta had that. And the other family decided on the lighter colored one... So, don't worry if you are not top on the list. You will end up with a great pup anyway! I did see the video of the girls, and was so impressed with their personality's and looks. You can't go wrong on getting a bad pup from them! I still keep in contact with them, and if you have any questions about the pup, Susan is always happy to talk with you.
Where do you live? I live in CA, and Greta did great on the flight! It was storming when I picked her up, but once she was out of the crate, she immediately started playing ball! Says a lot about their breeding!
...I believe their prices are worth it. To me, the initial cost is nothing compared to how much they cost in the long run! Getting a great dog was my priority. And that I did! She really is the best dog I've owned! Hope this answers all your questions, and feel free to e-mail me again and let me know what you've decided! Also check out my letters of reference on the web page if you haven't already!


Sincerely,
Susan H. and Herzlich Vom Waldenhaus (Greta)




Greta and best friend Susan





Greta vom Waldenhaus
doing high level of protection training.
---
Tony M.
Maryland
Hello Tom and Susan,
I just wanted to let you know how pleased I am with Heidi. She is the best dog I've ever had. She has bonded extremely closely with me and our family and she is always right next to me. She is gentle as a lamb with our family,.....always.
She is very protective around strangers and lets them know that she is a real German Shepherd who will protect us and our home. She is also a beautiful GSD with a silky soft coat... She has great ball drive and will play fetch until she drops. The contrast in temperament between my East German male GSD and Heidi in temperament is like night and day.
We love Barney, (my male, not a Vom Waldenhaus dog) but sometimes he is uncomfortable to be around (he is afraid and growls at family members for no reason). Also he is a loner. He prefers to spend a lot of his time under a table away from the family.
I want to let you know that when Barney dies (God forbid) I will order a male from you. I am starting to save my money now. I hope you continue to raise the finest German Shepherds I've ever seen.

Best wishes,
Tony M.
Click here to view 20 more different letters of reference sent to us by our satisfied customers.


Quick Access Menu


You can reserve your German Shepherd Puppy today with a deposit on your credit card


Feel free to E-mail us at
GSD@Waldenhaus.com
with any questions, suggestions or tell us what you think of our web site.
Thanks for visting our online German Shepher Kennel and remember to your favorites,
Susan, Andrea, and Lucas Forrest
---