23910 Village Drive. Richland, Missouri 65556

Phone:
(417) 453-6601

&nbsp
GSD@Waldenhaus.com
"Excellence in German Shepherd Temperament is our Specialty and our Breeding Standard for Over 30 Years"

A picture is worth a thousand words when we are answering the question:
"How are your German Shepherds with young children?"
Click here view a gallery of full size pictures of our German Shepherds with young children.

10 week old puppies are current on all vaccinations, covered under our extensive Guarantee and are SHIPPED FREE of any charge (after they are selected by you, from a video), including a new airline approved airline crate, complete air fare and associated taxes, misc. charges, etc., comprehensive flight insurance coverage, Veterinarian FAA required health certificate and check-up, all airline reservations and connections set-up by us and free delivery to the departing airport - free shipping to your closest major airport, any where within North America. The only responsibility you have is to pick-up your pup at the airport and start enjoying the best present you ever got for yourselves and for your families additional feelings of security.

---
The puppies are here!!! Britzy has a beautiful litter of 4 super healthy puppies, 3 males and 1 females.
Pictured below at 9 weeks old.

All puppies from this litter have been spoken for at this time.


| | |
| --- | --- |
| Male in Green | Male in Red |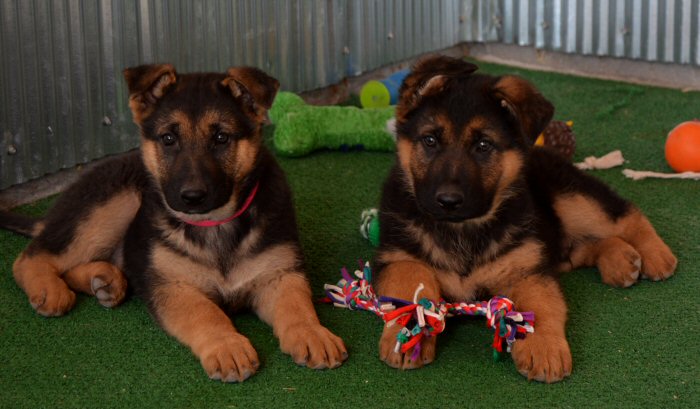 Britzy female in Pink and Britzy male in Yellow



Video clip of the 4 Britzy and Dierks puppies.
---
Ringo von El Tous
and
"Bella" vom Ravenholz
Litter ready - Mid Febuary 2015

Ringo and Bella puppies will sell for $3,500 each.
They will be covered by our extensive OFA/Health warranty and all shipping costs are free within North America.
This breeding has been parentage cleared as DM (Degenerative myelopathy) normal.

Click here for pictures and info on this breeding

We have started taking deposits on this litter. We have 3 openings on males (Green, Orange and Purple) and 1, possibly 2 openings on females.


The puppies are here!!! Bella has a large, very healthy litter of 10!
7 males and 3 females!! Pictured below at 7 weeks old. Video footage at 8 weeks... UPDATE... Males in Green, Orange and Purple are available!


| | |
| --- | --- |
| Bella Green male | Bella White male |
| Bella Yellow male | Bella Red male |
| Bella Blue male | Bella Orange male (plush coat) |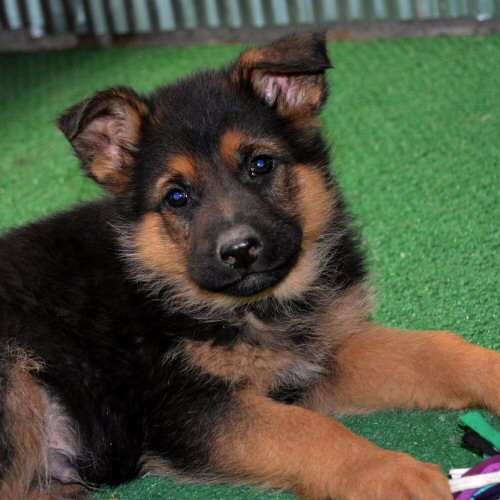 Bella Purple male



Video clip of Bella and Ringo males at 8 weeks (males in this clip are: Blue, Orange, White and Yellow)


Video clip of Bella and Ringo males at 8 weeks (males in this clip are: Red, Green and Purple)


| | |
| --- | --- |
| Bella Blue female | Bella Pink female |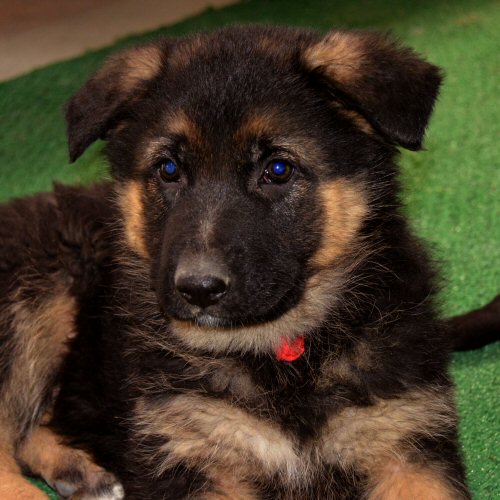 Bella Red female

Video clip of Bella and Ringo females at 8 weeks