23910 Village Drive. Richland, Missouri 65556

Phone:
(417) 453-6601

&nbsp
GSD@Waldenhaus.com
"Excellence in German Shepherd Temperament is our Specialty and our Breeding Standard for Over 30 Years"

Due to the high volume of inquiry that we have had over the last few months, regarding puppy availability at this time, we are not returning phone calls on inquiry voice messages, left on our telephone answering machine, please inquire with a detailed email message or FaceBook PM, with what you are looking for and we will gladly set up a time to talk by phone.


Visit's to our facility and home are by appointment only. Thank you.
Thanks for visiting the
Vom Waldenhaus German Shepherd Breeders
web site, we would love for you to stay and browse our
extensive and informative
web site with collections of
pictures and vieos
of our quality German Shepherds. Our philosophy in German Shepherd Breeding is
fundamentally different
from other German Shepherd Breeders and because of this
we produce superior health and temperament in our German Shepherd Puppies
and we back every German Shepherd Puppy that we sell with a comprehensive
Hips and Health Guarantee
!
help you to select the perfect German Shepherd puppy
no matter where you live, just watch some of our German Shepherd Puppy video's and see for yourself!
---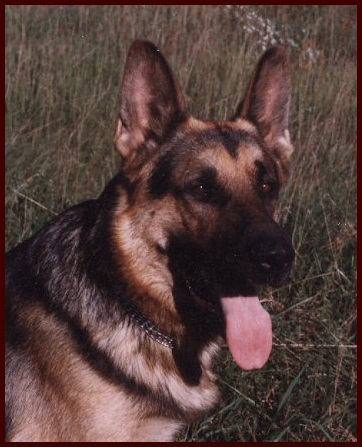 Boris vom Forsthaus Mönches
Foundation imported German Shepherd Stud dog
The dog that started our breeding program



In Loving Memory and Dedication. We give tribute to his Spirit which has been
a beacon of Light in our endeavor to breed for the perfect German Shepherd companion.

"You become responsible for what you have tamed" - Antoine de Saint-Exupery
Vom Waldenhaus German Shepherds is centrally located in the beautiful Midwest Missouri Ozarks on 120 acres located in the Mark Twain National forest. We have dedicated our lives to building a foundation of healthy, beautiful German Shepherds. We ONLY breed German Shepherds. Our litters are very consistent in the type of German Shepherd dog that we have selectively bred for over 35 years now. All of our foundation dogs came from W. German import lines. We only use direct German bloodlines infused into the bloodlines we have developed over the life of our breeding program.
We have a ZERO compromise policy when it comes to health and temperament of our German Shepherd breeding stock. - We breed for a TOTAL family dog, NOT a high drive, intense sport/biting dog.
We have many dogs working in obedience, agility, SAR (Search and rescue) and as therapy dogs working in nursing homes and with disabled children and adults, as well as personal assistance dogs.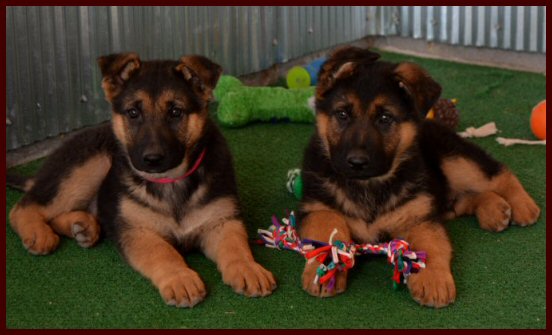 Typical Waldenhaus puppies at 8 weeks old
Our breeding goals have always been for a German Shepherd who is very loyal and highly bonded to their family, calm and good natured with small pets and children, yet alert and protective of their family without being high strung or needlessly aggressive.
Our goals started over 3 decades ago with a desire to improve and preserve the purpose of this magnificent breed which is known for their devout loyalty, willingness to please and natural protective instincts, making the German Shepherd dog one of the very best companion dogs in the world.
The past 35 years of our breeding program here at Vom Waldenhaus German Shepherds has been dedicated to creating a
consistent bloodline
through proper genetic selectivity for a large boned, sound minded, healthy, medium drive dog who is best suited for a family environment. We prefer a strong pigment of black and red and some black and tan, our dogs have good bone, nice heads and ear sets and tend to be more straight backed, not the roached or low back that Show line German Shepherd dogs are known for. Our dogs have the conformation to move effortlessly for miles, they are strong in their backs, hips and legs the way the breed was meant to be.
We have spent thousands of hours interacting, handling and observing each litter of German Shepherd puppies individually. We know from years of experience, that proper, early stimulation and interaction with each puppy helps foster high bonding with humans and creates companionship and respect. We work with our puppies in small groups and individually as they get older so by the time they are ready to leave for their new homes they are use to being away from their litter mates for extended periods of time, which makes for a less stressful adjustment into your home.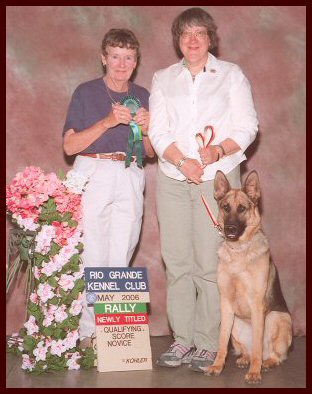 Terry and Bridget vom Waldenhaus
living in New Mexico
We have always stayed very small and selective with our program, we do not have many litters each year and we are able to put a lot of time and focus on our dogs and the litters that we do raise so we are able to have a good understanding of the type of German Shepherds that we are producing. We can be very selective with the families that we place our dogs with and have the time to be confident that each one of our puppies is being placed in the best possible home suited for their unique personalities.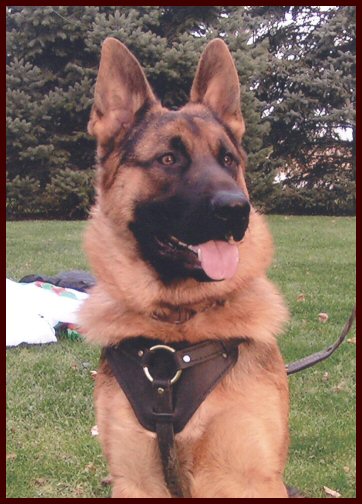 Trapper vom Waldenhaus
9 month old, Britzy and Dierks male in PA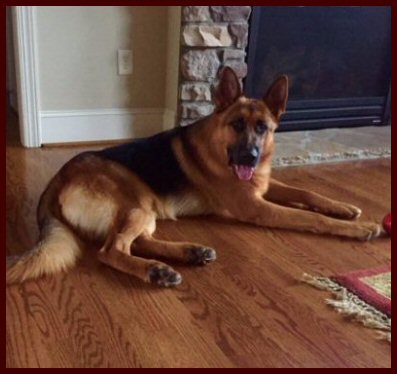 Copper vom Waldenhaus
1 year old Ringo and Bella male in his wonderful North Carolina
home
Why us?
When you decide to bring a Vom Waldenhaus puppy into your homes, you are making a decision to go with a breeder that has decades of experience, not just breeding dogs, but breeding specific genetics that has proven litter, after litter to be consistent in quality. Many breeders out there are not even working with dogs they bred and raised, they are purchasing dogs from various places, breeding them together and hoping for the best.



All of our dogs are screened against having health problems common to the breed, all of our breeding stock have been x-rayed to be free of hip and elbow dysplasia. We have worked hard to keep our bloodlines are clean and free of the problems that most other breeders are plagued with. All of our breeding stock has been screened for the serious genetic trait that causes DM (Degenerative myelopathy) a horrible crippling disease that is very prevalent in the German Shepherd Breed.



We offer a comprehensive warrantee on our puppies, we are one of the few breeders who offers a life long warrantee on hips and elbows. Most breeders only offer a warrantee for crippling or moderate dysplacia within a certain time period, such as 1 to 5 years, but this can leave you with a middle aged dog who still suffers pain, and a breeder who has washed their hands of the situation because it didn't fall in their short health guarantee



We also offer full ownership with all of our dogs, we do not limit your rights as owners or have stipulations as to what you can and can not feed to be covered by our warrantee or other small print that will surprise you should you have a problem.



As professional and experienced German Shepherd breeders, we pride ourselves on customer satisfaction, we have hundreds of very satisfied clients, many, many repeat clients and we can provide references! We treat our clients the way we would want to be treated if we were buying a German Shepherd dog!



Because we keep our breeding program small, we can provide personal assistance during and after the selection process and support for years to come. Our goal for every puppy that we place is to meet or exceed your expectations!



We go the extra mile to help those who are long distance follow the development of the litter with frequently updated pictures and video at 8 weeks to help with selection. We firmly believe that everyone buying a puppy long distance should always see a video of the puppies to see how they interact, move and overall body condition, before they make that final decision to have the puppy sent them.



We let our puppies leave when they are 10 weeks old, we have found that an additional 2 weeks over when most breeders send their pups out, is better for the overall transition into a new home, we have been able to give an additional vaccine to help protect the puppy from dangerous puppy illnesses they may come in contact with while being transported to their new home, in addition the puppies weeks old are still very immature and still needing that additional security of their littrmates, so removing them into a solitary environment for shipping or while their new family may be away for a few hours can be much more stressful, 2 additional weeks prepares the puppy to be out on their own with less crying and stress, which is better for everyone involved. We spend that additional 2 weeks that we keep the puppies here, crate training as well as house training for a smooth transition into your home.



Osa vom Waldenhaus
lovely Ringo and Bella female living in Texas, Hawaian Style!




All of our puppies come with a complete vaccination record and they are already microchiped. You will receive signed warranty agreement.



We place all of our puppies with the AKC puppy protection package, this is a great program offered by AKC in conjunction with AKC Reunite, where all of our puppies microchips are recorded. With this program your puppy will come already registered with AKC in your name and their microchip will be registered in your name through the AKC Reunite database. There are also several other perks that come with this package such as 60 days of free health care, a New puppy hand book and a year subscription to AKC Family dog magazine.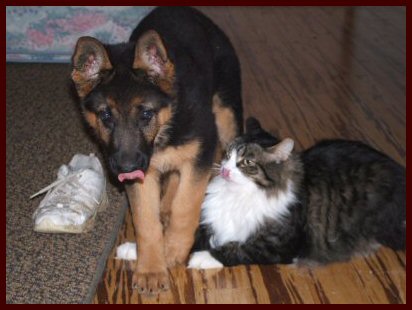 Beautiful 7 week old German Shepherd female and one of our house
cats, all of our puppies get plenty of exposure to cats!
If you like what you see and want one of these magnificent German Shepherds to become a working member of your family - you can call us after 11 AM (Central Standard Time in the Midwest) at (417)-453-6601 and leave a message, the answering machine is almost always on or we would never have time to enjoy our wonderful German Shepherd Family.
Please leave your name and phone number and a message detailing what you are looking for and we will pick-up or return the call. If you are already convinced that you want one of our wonderful pups, we can take a credit card deposit by phone of $500 to secure a place on our waiting list. You can also use our secure form to send us deposit information and we will get back to you with a response as soon as we can, to let you know where you are on the list.
We greatly appreciate e-mail correspondence due to the limited time we are in the house, there just isn't enough hours of the day right now to return everyone's calls, but we do try very hard to answer ALL emails in the late evenings.
We occasionally receive e-mail with an incorrect return address so if you don't hear from us within 48 hours, check your return address or resend your message.
We will always try to respond to all inquires promptly. Due to the large volume of spam we receive, please make sure to put the word GERMAN SHEPHERD or PUPPY in your subject line, we do not want to miss your message by accident!
Visits to our German Shepherd breeding kennel and facility in Missouri are always welcome by appointment. Thank You for your interest in our German Shepherds, and be sure to tell a friend about us.
Vom Waldenhaus German Shepherds is now on Facebook! "Like Us" and get updates on our upcoming litters and other fun news about our dogs!
Vom Waldenhaus German Shepherds


Quick Access Menu


You can reserve your German Shepherd Puppy today with a deposit on your credit card


Feel free to E-mail us at
GSD@Waldenhaus.com
with any questions, suggestions or tell us what you think of our web site.
Thanks for visting our online German Shepher Kennel and remember to your favorites,
Susan, Andrea, and Lucas Forrest
---