23910 Village Drive. Richland, Missouri 65556

Phone:
(417) 453-6601

&nbsp
GSD@Waldenhaus.com
"Excellence in German Shepherd Temperament is our Specialty and our Breeding Standard for Over 30 Years"

Thanks for visiting the
Vom Waldenhaus German Shepherd Breeders
web site, we would love for you to stay and browse our
extensive and informative
web site with collections of
pictures and vieos
of our quality German Shepherds. We truly feel our philosophy in German Shepherd Breeding is
fundamentally different
from other German Shepherd Breeders and because of this
we produce superior German Shepherd Puppies
and back every German Shepherd Puppy we sell with a comprehensive
Hips and Health Guarantee
!
help you to select the perfect German Shepherd puppy
no matter where you live, just watch some of our German Shepherd Puppy video's and see for yourself!
---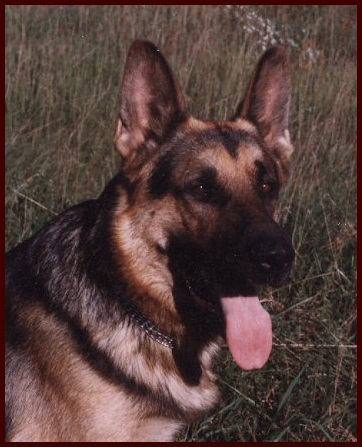 Boris vom Forsthaus Mönches
Foundation imported German Shepherd Stud dog



In Loving Memory and Dedication. We give tribute to his Spirit which has been
a beacon of Light in our endeavor to breed for the perfect German Shepherd companion.

"You become responsible for what you have tamed" - Antoine de Saint-Exupery
Our goals at Vom Waldenhaus German Shepherds centrally located in the beautiful Midwest Missouri Ozarks, is to improve the German Shepherd breed through proper genetic trait selectivity and the earliest possible handling and socialization. We spend hundreds of hours (along with our children) interacting, handling and observing each litter of
German Shepherd puppies
individually. We feel that proper early stimulation and interaction with each puppy helps foster high bonding with humans and creates companionship and respect, which logically eases resistance for later advanced training. Most kennels and self proclaimed German Shepherd breeders in today's make a "quick dollar" mentality, will breed almost any two randomly acquired German Shepherds just to produce puppies with little regard to selection of correct German Shepherd quality and disposition. In most cases the only socialization the puppies get are with each other and once a day when they are feed and cleaned up after.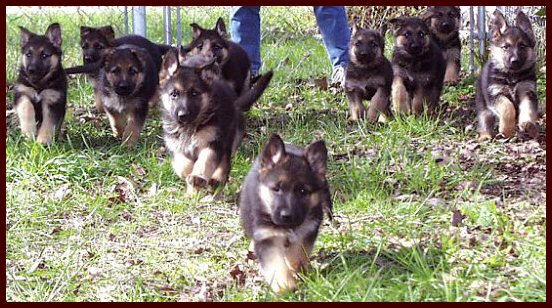 A large, beautiful litter of Vom Waldenhaus German Shepherd puppies in 2004
For 30 years now, we have dedicated our lives to building a foundation of healthy, beautiful German Shepherds. Our litters are very consistent in the type of dog that we have selectively bred for, we have a ZERO compromise policy when it comes to health and temperament with our breeding stock. We breed for a sound minded, family disposition, a German Shepherd who is very loyal and highly bonded to their family, calm and good natured with small pets and children, yet alert and protective of their family without being high strung or needlessly aggressive. We spend countless hours with every litter of German Shepherd puppies born here so we can help to select the best match for your family.
As professional and experienced German Shepherd breeders, we pride ourselves on
customer satisfaction
, after you have looked through our 100+ page website, viewed pedigrees, letters of reference and our
comprehensive health guarantee
, if you like what you see, you can make a reservation. We will immediately put you on the list. When the puppies are 8 weeks old, if you live a great distance from our facility in central Missouri and can not come here to select your puppy, you will receive regularly updated pictures and streaming video clip of the puppies (designated with different color ribbons) of the type you are looking for to select from, with our best recommendations, however, the final choice is always YOURS.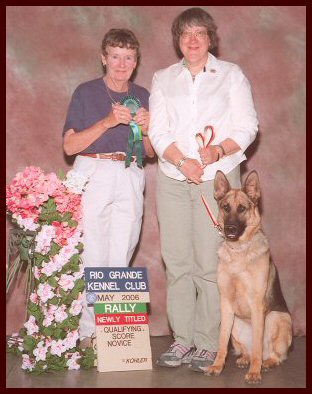 Terry and Bridget vom Waldenhaus
We do not believe that anyone should ever buy a puppy, without seeing at least a video. We want you to feel comfortable that you are getting exactly what you are paying for. Buying a puppy should be fun and stress free, from people you feel comfortable with, not filled with worry or frustration that you may not be getting what you are expecting when shipping day arrives. Video provides absolute proof that "what we say we have, we can prove we have" and that you are going to get an excellent
German Shepherd puppy
from us. You will not have a disappointing surprise when you open up the airline crate. You are going to get the puppy you selected from our video.
We let our puppies leave when they are 10 weeks old and crate trained with a complete vaccination record and microchipped, signed
guarantee
and AKC papers. They are SHIPPED FREE of any charge including a new airline approved airline crate, complete air fare and associated taxes, comprehensive flight insurance coverage, Veterinarian FAA required health certificate and check-up, all airline reservations and connections set- up by us and free delivery to the departing airport - free shipping to any major airport anywhere within North America. The only really big responsibility you have is to pick-up your puppy at the airport and start enjoying the best present you ever got for yourself and your family.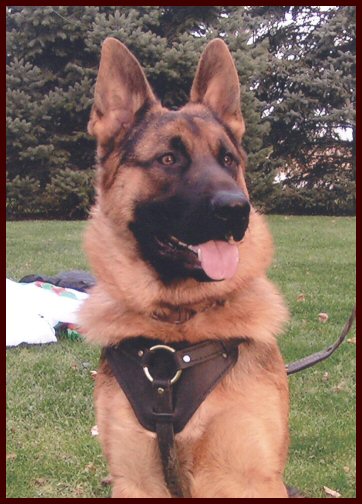 Trapper, 9 month old, Britzy and Dierks male in PA
We successfully and consistently produce large boned, beautiful
black and red German Shepherd puppies
that have exceptional temperaments. We breed only select
German Shepherd dogs from Imported German bloodlines,
which we have been breeding and working with for many, many generations, we know our bloodlines!! We are not breeding for the fads in the show ring, importing over the new hot bloodline and just hoping that it all works out, the lines we are working with, we have worked with for nearly 30 years, they are sound in health and temperament and while there are always potential flukes in any breedings, we have greatly reduced the chances of surprises because we have such a long history with these German Shepherd bloodlines and planning our breedings.
We have been very strict about health from day one, all of our breeding stock have been x-rayed to be free of hip and elbow dysplasia. Our German import blood lines are clean and free of the problems that most other breeders are plagued with. All of our breeding stock has been screened for the serious genetic trait that causes DM (Degenerative myelopathy) a horrible crippling disease that is very prevalent in the German Shepherd Breed.
We research our breeding imports background extensively, but more unique than anything else, as long time experienced, German Shepherd breeders, over the last 3 decades, we have family raised complete litters to maturity at our facility so that we could evaluate each puppy at every stage in development, this has helped us to know exactly what we are producing and sending out into your family's home.
We consistently produce sound, high bonding companions with super intelligence and strong training drives. Each German Shepherd puppy we produce has the essential elements and strong bonding instincts to make them sound personal and loving family companions. Each litter produces some king-size pups and maximum for the standard size pups, never anything less in size or stature. We do not and would not breed specifically for over sized German Shepherd Dogs, but would not sacrifice the excellent temperament we produce, because a few puppies in every litter happen to be slightly larger than the standard. Good breeding is always an educated and well informed balancing act.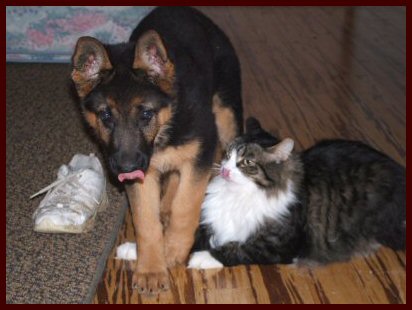 Beautiful 7 week old German Shepherd female and one
of our house cats, all of our puppies get plenty of
exposure to cats!
As strictly
German Shepherd Breeders,
we have spent the last 30 years gathering as much analytical data as possible and our research of these selective breeding's has given us the tools to match up the outstanding traits of each individual to compliment the outstanding traits of each of our breeding pairs. For us proper breeding is more like an art form and a purposeful pursuit for the love of the breed.
If you like what you see and want one of these magnificent German Shepherds to become a working member of your family - you can call us after 11 AM (Central Standard Time in the Midwest) at (417)-453-6601 and leave a message, the answering machine is almost always on or we would never have time to enjoy our wonderful German Shepherd Family. Please leave your name and phone number and a message detailing what you are looking for and we will pick-up or return the call. If you are already convinced that you want one of our wonderful pups, you can place an immediate $500 deposit by leaving your Visa or M/C number and exp. date and you will be next in line on the list. (We are a tightly knit family-only kennel operation. We do not have the need to employ any outside help, so all transactions are completely safe and secure). We will call back as soon as we get in to verify your deposit and position on the list. You can also E-Mail us your deposit information at:
GSD@Waldenhaus.com
and we will get back to you with a response as soon as we can, to let you know where you are on the list.
We greatly appreciate
e-mail correspondence
due to the limited time we are in the house, there just isn't enough hours of the day right now to return everyone's calls, but we do try very hard to answer ALL emails in the late evenings.
We occasionally receive e-mail with an incorrect return address so if you don't hear from us within 48 hours, check your return address or resend your message. We will always try to respond to all inquires promptly. Due to the large volume of spam we receive, please make sure to put the word GERMAN SHEPHERD or PUPPY in your subject line, we do not want to miss your message by accident!
Visits to our German Shepherd breeding kennel and facility in Missouri are always welcome by appointment. Thank You for your interest in our German Shepherds, and be sure to tell a friend about us.
Vom Waldenhaus German Shepherds is now on Facebook! "Like Us" and get updates on our upcoming litters and other fun news about our dogs!
Vom Waldenhaus German Shepherds


Quick Access Menu


You can reserve your German Shepherd Puppy today with a deposit on your credit card


Feel free to E-mail us at
GSD@Waldenhaus.com
with any questions, suggestions or tell us what you think of our web site.
Thanks for visting our online German Shepher Kennel and remember to your favorites,
Susan, Andrea, and Lucas Forrest
---