23910 Village Drive. Richland, Missouri 65556

Phone:
(417) 453-6601

&nbsp
GSD@Waldenhaus.com
"Excellence in German Shepherd Temperament is our Specialty and our Breeding Standard for Over 30 Years"

Welcome to our young and sometimes older adults for sale page
Descriptions and pictures of some select young / older adults and
older puppies we have available for sale now.

A picture is worth a thousand words when we are answering the question:
"How are your German Shepherds with young children?"
Click here view a gallery of full size pictures of our German Shepherds with young children.

We have an outstanding 16 week old male pup available at this time.

Introducing

Sarge

UPDATE- 2/11/2013 Sarge has been spoken for.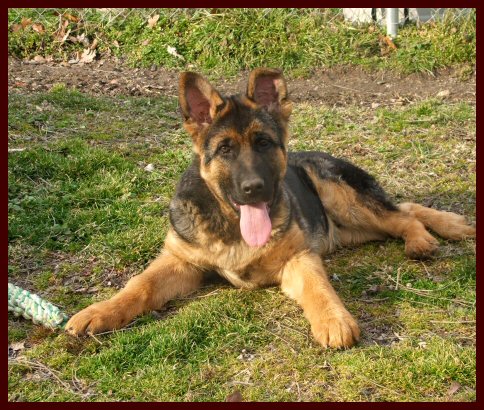 Sarge at 15 weeks old.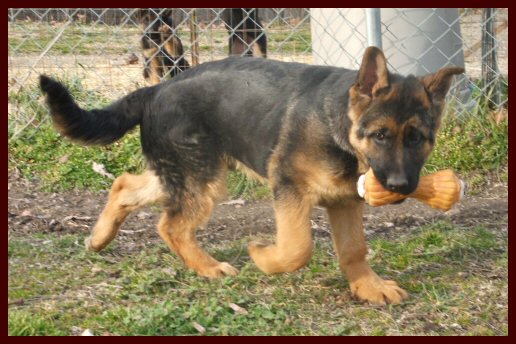 Sarge at 15 weeks old.



Sarge is son of Marley vom Waldenhaus and Egan vom Ravenholz. He is going to be a large black and red, he is almost a carbon copy of his dad Egan!

Sarge he has an incredible personality, very good natured, great with children and small pets, very high bonding and intelligence! He has been started on leash work, he is crate trained and excellent in the house.

Sarge is priced at $3500 which includes all shipping costs in the United States and he is covered by our comprehensive OFA/health warrantee.
Click here to view his parents, Egan and Marley




---

Our young adult and older puppy German Shepherd Dogs are current on all vaccinations, covered under our extensive Guarantee and are SHIPPED FREE of any charge including a new airline approved airline crate, complete air fare and associated taxes, misc. charges, etc., comprehensive flight insurance coverage, Veterinarian FAA required health certificate and check-up, video on individuals to select from, all airline reservations and connections set-up by us and free delivery to the departing airport - shipping any where within North America. The only responsibility you have is to pick-up your brand new German Shepherd Dog at the airport and start enjoying the best present you ever got for yourselves and for your families additional protection and security.

This page is updated frequently, Please check back and see who is new,
and / or click here to subscribe to our E-mail announcement list!


Quick Access Menu


You can reserve your German Shepherd Puppy today with a deposit on your credit card




Feel free to E-mail us at GSD@Waldenhaus.com with any questions, suggestions or tell us what you think of our web site.
Thanks for visting our online German Shepher Kennel and remember to your favorites,
Susan, Andrea, and Lucas Forrest


---