23910 Village Drive. Richland, Missouri 65556

Phone:
(417) 453-6601

&nbsp
GSD@Waldenhaus.com
"Excellence in German Shepherd Temperament is our Specialty and our Breeding Standard for Over 30 Years"

"Letters of Reference"

Copies of original letters available upon special request ( with permission of owners )
FROM: Mrs. S. H.
Vermont

HI,
I measured Storm and she is approximately 24" at the withers. She is 6 months old and weighs around 65 pounds. With this information you can now look into your crystal ball to estimate how big Storm will be when she grows up. Also, I would be glad to hear some of your suggestions as to how you get your dogs to COME when you call (especially when there is a cat around).
I weighed her on the vets scale and she is around 65 pounds at 6 months -- how big do you think she will get when she is full grown?
I am teaching her how to get the newspaper in the morning. Storm and I walk down to the mailbox, I give her the paper and then she runs up the driveway, I let her in the house and she makes a dash to the bedroom to give my husband (Dan) the paper. We just have to work on her not jumping on top of him to give him the paper -- I think he would appreciate it more if she just sat beside the bed to give him the paper!
I really appreciate the way you keep in touch with me. I know how busy you are, but yet you always respond to me so promptly. It is nice to have purchased a puppy from someone who really cares about GSD and not just the money. I will try to send you some more pictures in the near future.

S. H.
---

Cherry with Aurora vom Waldenhaus, Susan Forrest with Sage vom Waldenhaus, taken during a trip out west
The J. Family
California

Dear Susan, Tom, Andrea and Lucas,
Enclosed you will find the signed health certificate for Aurora. We have kept the other copy for her file. Also you will find some pictures of Aurora when she was about 13 weeks old. As we get new ones, we'll send them along.
Aurora is everything we wanted in a GSD and more. You have been such wonderful support from the first time I contacted you. We have loved working with you and will always stay in touch. You always seem to calm my anxieties. I always have such a good feeling after talking with you. Everyone from family to complete strangers are so impressed with Aurora's very loving nature, her intelligence, and gorgeous looks. She is quite the helper from washing the car to watering the plants. She always wants to be with us doing busy work!
The other day she met up with children for the first time, ages 1 year to 10 years old and she acted as if she had been brought up with them. She loved and played with them dearly. We never had to worry! She also is great with other dogs as you well know we have 4 other dogs.
Thanks again for being the wonderful breeders you are. We will surely get our next dog from you in a couple of years! Please feel free to use us as a reference, we would love to share our experiences with Vom Waldenhaus German Shepherds with anyone!
Thanks again,
Cherry, Chris and of course Aurora
---
Ms. B. and Azynn
California
Subject: Happy Mother's Day

Dear Mom-Susan & Mom-Alfa,
I am wishing you both a happy Mom's Day from Sonoma. I am getting big and strong! I love it here, and soon I will be moving to a bigger house with lots more kids to play with! Maybe even a pool!
Thanks to you both for the great start I got in life, I am a very gute hund, (good dog, I think!).
They really love me here and think I am very smart. Some day maybe I will get to be alpha leader!
I go for lots of walks and most everyone loves to pet me and tell me how beautiful I am. But you probably already know that!
Take care & we will send photos soon!
Love,
Your daughter...
Azyn Vom Waldenhaus
---
Mr. Ed B.
Missouri
Susan and Tom,
(Annda) She is the smartest thing going. I always feed her her milk in the morning after I take her outside to go to the bathroom but this morning I had to leave for an appointment shortly after I brought her in so I thought I'd wait until I got home. The little begger picked up her plate and bought it over to me. I just had to give her her milk.
As I type this, she's sitting next to me pulling on my sleeve because she wants to play. By the way, you and Tom ought to be very proud because the Vet was really impressed by the job you did. I hope he throws some business your way so some other people can be blessed with a dog as I am.

* * *

...She continues to be just a doll. She's the most lovable dog I've ever seen. She's at her happiest when I'm playing with her or rubbing her belly and she's as smart as a whip. Also stubborn when she wants to be.She just loves people and being around them ------ especially kids. When my grand kids come over, she's in second heaven playing with them. They also have a puppy which I haven't allowed to bring over since Annda didn't have all her shots. Now that she does, she'll have a buddy to play with on occasion. Also I'll be able to take her for long walks ------ as soon as it quits raining.
Well, that's it for now. Thanks for doing such a great job of breeding and socializing her. She truly is an exceptional dog.

* * *

Hi Susan, Tom and Andrea,
Just thought I'd bring you up to date on Annda. She is unbelievable! I've never had a dog of any type that's as lovable as her. In fact, it's tough to take her for a walk because she's always under your feet! She seldom leaves my side and when I scold her (we still have an occasional accident) she looks so broken hearted that it breaks my heart. Since she hasn't had her final shots yet (we go to the vet next Tuesday for them) I haven't really had her out for any long walks but I do take her out front to socialize with the kids in the neighborhood. They just love her! She is the most friendly and lovable dog they've ever seen.

Thanks.
Ed
---
Police Officer and Mrs R.
Missouri

Hi Everyone,
How are you all doing? We're all doing well. We haven't been in touch for awhile and we wanted to let you know what was happening with Murphy.
D. quit his job as a City Policeman and is now working with the Phelps County Sheriff's Dept. I should say, D. and Murphy! We are all so excited. He will be used as a drug dog. He does so well we are expecting great things from him. You should be proud, he is some dog! We're hoping to also use him for search and rescue. Our problem is the time to teach him and of course we are still learning ourselves. We sent Murphy to Tom Rose so he could teach him tracking. Tom said Murphy has all the abilities, but he is so bonded to us he will not work for anyone else but D. He said he has only come across a few dogs with Murphy's drives that have bonded so strongly with his family. So we have to do the tracking which is fine, but we have to help which means it will take longer.

Can you believe all we wanted was a big beautiful German Shepherd Dog? I can't believe what he can do. D. has his dream taking him to work.
His first job was to show people how he can find drugs at the Wal-Mart store. They were hiding drugs in the pumpkins. They had no idea he would send the pumpkins rolling everywhere!
He has worked several more demonstrations and the Interstate. He is on call for the next 2 weeks with the Highway Patrol. We'll let you know when he makes his first find.
The pictures are not the best but I'm sending them anyway. I'll try for better. Himmel and Schaefer are doing great also, but I hate writing so I'll save praising them until next time.
Take care, let us hear from you.
J. D., kids and dogs
---
The C. Family
Minnesota

Dear Tom and Susan,
Words cannot express how happy we are to have Haley as a member of our family. She is eight-and-a-half months old now and we can't imagine life without her. We always get comments on how beautiful she is and how "mellow" she is. She enjoys everyone who visits. She and I take a long walk every day and she is friendly to all who greet her. She is doing well in obedience school, though we're taking it real easy with her because she's still young. She is SO smart...she picks everything up right away. In fact the obedience classes are clearly meant for me so I can keep up with her! Haley has turned out to be the perfect dog for us. We feel very fortunate to have found her. Thanks for sending her to us.

Please feel free to use the above or any of the rest as a reference.

* * *

We are having a ball with Haley. She is so easy it's scary. Of course she's still a normal puppy and enjoys taking things out of the wastebasket and eating them and when no one's looking, playing with Zeke, the cat, even when Zeke does not want to play.....which is just about all the time!
She's growing like crazy and we have been advised to watch her weight. She is a good 75 pounds already and a little too hefty we're told. Do you have any guidelines regarding weight? We have cut down her food to 3 cups a day and her training treats are carrots now. She really likes them. Do you think they are OK or her?...
You had asked about the German Shepherd club. We haven't been going there because they seem to concentrate mostly on conformation. We really like the obedience school....several Shepherds are there from the Club. Yesterday, for fun and experience, I took Haley to an Obedience match at the GSD Club. She participated in the pre-novice group with a three-year old female, two-year old female, 10-month old male and Haley. She took third...
Of all the dogs there, Haley is the most beautiful (no, I'm not biased!) and has the largest bone structure. So many of the dogs seem skinny and too slanted to me. I guess this is a good deal in the show ring. I don't like the look.
Thanks again for sending Haley our way. Hope you guys are doing well. At what age do you want to see pictures of her?

Take care,
Peggy C.
---
The S. Family
California

Dear Tom and Family,
We just wanted to write a quick note to update you on our Sophie.
She's incredible and we love her more everyday. Sophie is not our pet, she's a member of our family. She's like a shadow as she follows us from room to room and such a mother hen! She is constantly checking on each of us to make sure that we're ok. She thinks she's Maggie's mother. They take naps together, play and Sophie kisses up her face. She's like a teddy bear, so loveable and sweet. Everyone who meets Sophie falls madly in love with her. In fact, we receive a discount from our groomer because she's so sweet, well-mannered and they love her. The veterinarian is also in love with her and calls to tell us she misses her. I have had friends ask if they can borrow her for the day and ask to come over and visit her! She's quite the celebrity in the bay area. She's incredibly sweet and gentle with kids. They can climb all over her and she just gives them kisses! I must tell you she's worth every penny we paid. Thank you so much for sending us our fantasy.


Warm Regards,
Sophie, S., C. and F.
* * *
Greetings:
Just a quick note to say hello and tell you that we are more in love with Sophie (aka Britta). She is the sweetest dog in the world! Her tempermant is like a seeing-eye-dog as she is so well mannered, sweet and sticks by our side. She's like a shadow. It's amazing but this sweet dog is also protective. I never worry with Sophie around. She sleeps in the hallway between the bedrooms and patrols the house all night. One day the air-conditioner repairman made the mistake of walking into my daughter's b As we mentioned to you before, we also have a yellow lab Maggie. Well, Miss Sophie acts like she's Maggie's mommy. She gently teaches Maggie manners and gives her tons of love. She's so funny when we go walking as she has to "herd" her people and Maggie together in a group. She looks out for all of us. Sophie is an in-house dog because she's so well mannered. She stays in the house when no one is home too! We take her everywhere with us...
Again, rest assured, sweet, beautiful Sophie has got to be the most loved and appreciated dog around! Thank you for sending her to us.

Regards,
Stella and Christy S.
---
The H. Family
New Mexico

Brix is 85 lbs. and 7 mos. old now. He is in second obedience class and doing very well. We were wondering when a litter might be coming from the new line you brought in from Germany. Hope you are truly taking some time off this summer. We love Brix very much. He is truly very special.
... I think I have spiritually united with this dog. Can't explain it, but we have mind melded. He is unbelievably smart and cognitive. But you know what I mean. We see into each other's souls. I have never had this happen to this extent before. You have done excellent work in your breeding program. You breed psychic dogs that become best friends.

B.
---
The McK. Family
N. Illinois

Dear Susie, Tom, Andrea, and Lucas,
Well, it's been 2 1/2 weeks since we picked up Fritz. It seems like he's been here much longer than that short amount of time. Fritz has gained almost 5 pounds in that time and he has lost that fluffy, puppy look already. His ears are standing up and he has quite a bit of his adult hair coat in. His feet and ears are as big as ever. J.'s folks were through here last week and said Fritz was nothing but ears-they loved him! J.'s grandmother was very proud and touched that we used her father's name for the puppy. Fritz has totally surpassed our expectations. He is so mellow for a youngster in that he only barks when he can't get at Finnegan (the Bengal cat) and at the rack when we are racking leaves. Normally, he is not in the least bit hyper, unruly, aggresive, or otherwise puppy stereotypical. His behavior and personality are unbelievably enjoyable. The only complaint is that Finnegan and Fritz play too much. Finnegan has the advantage in that he can jump up out of Fritz' reach. He then will taunt Fritz until he is whinning and jumping...it's enough to drive ya nuts sometimes. The cat KNOWS that he is driving Fritz insane and Fritz just can not leave that cat alone.
Mouse, the closet cat, has come out to meet Fritz. She does not really know what to think. If Fritz gets too close, she freaks and is back in the closet for several days. One of these days, maybe she'll get over it...
We took Fritz to the Vet this past Saturday. The vet was impressed with his behavior and said, "He's a keeper!" He also said he's going to be big, much to J.'s delight. Fritz and J. waited in the car until the vet was ready to see him, then J. carried him straight into then out of the office. We minimized the exposure as much as we could.


K., J., and Fritz

PS. Fritz is still J.'s--more so every day!
---
Mr. Charles E.
South Africa
Our dear Tom,
Wow,wow!! Stunning and indeed awesome looking! More hugs and more hugs! Everything we thought he would be! So much power, front legs as big as my fore arms, great structure, conformation, easy gait, amazing temperament!! WOW! ... We are more than satisfied. I can go on to express what we see infront of us but I guess you know this already.
All our dogs are now at home. We introduced Jager to the wolf only - today and what a show - the 8 week cub growled, barked and eventually they fell asleep together on our bed. They bonded very quickly, trottting together around the house. My long holiday starts today to take care of the animals and Shulay after being away from home so often.
Thank you for your phone call. I was so surprised that I did not know what to say and when I heard Jager was at the airport I was even more confused and was in my car by the time I put the phone down... You see, we were at the airport when Jager arrived, but was told we cannot take him home. He has to go into quarintine. This we accepted - use to the procedure. At midnight our agent phoned to say we can only collect Jager on the Sunday morning, in the morning they told us the quarintine station is closed and will only open on Monday morning. So when you phoned to say Jager is still at the airport I could not understand or believe it. Anyway, fortunately he was at the quarintine station as we were told. But we discovered later that Jager was only taken into quarintine 4 hours after his arrival. The devil became my best friend. All my anger at the beaurocrats came out... Jager was certainly worth the wait!!
Thank you also for your trust in me, in sending him without the money in your account. Tom, I am also exploring on my end the delay. The deal is not closed untill you have your money. You have my promise that I am in this ___with you all the way. Seeing Jager washed all the frustrations and worries of the past month away!
Thank you! Let me know what else I could do on my side.


Hearing from you soon

Happy Charles and Shulay
---
Mr. and Mrs. Tim J.
Illinois

T. writes:
"I suppose it is my turn to say a few words about "Ranger" Stupendous, Colossal, Magnificent, WOW! WHAT A DOG! How is that for a few words? B. and I couldn't be more pleased with Ranger... we will send you these ( pictures ) to you some idea of what a magnificent animal we have. I could go on and on about how special, smart, sensitive and noble Ranger is but, I would suspect you get that kind of stuff in all your letters. So let it suffice to say that we are extremely pleased with our dog".

P.S. We are already planning for our next GSD and we will keep you informed on our progress in that area.

T.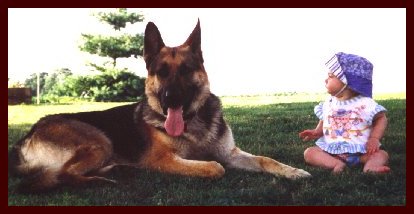 ---
Mrs. Hellen B.
Missouri
Hi,
We are so proud of "Bo"! Last night she graduated from her novice obedience class and most of all she passed the AKC Good Citizen Test with flying colors! We were surprised because she had not been worked enough. We taught her not to break a down on long lead in about 10 minutes before leaving for class! Terri is planing to take her to the second class in January. I think we will work a little harder next time...
Take Care,
H. & D.
---
Dr. and Mrs. R. G.
Missouri

"Briania Vom Waldenhaus" has grown to 29 pounds and into her second adjustable harness. We are so very pleased with her personality and tractability. She is very much like a "lady" taking food gently out of hand and has "sat" on command from the moment we brought her home... She already shows signs of being an excellent watch dog... She and our cat wrestle & stalk one another. She has been a sheer delight and I wanted you to know how happy we are with her disposition and her gorgeous looks. We will keep in touch.


Sincerely,
B. G.
---
Mrs. B. C.
Missouri
Hi -
The puppies are doing fine! They are great pals. Peaches has been a dream - we have never had a problem with her. She is totally house broken, thanks to you. She likes to bring in the paper - did you teach her that? The only problem we have is that if we're not right there to get it, Christy, the G.P., chews it to shreds!! She is also developing into a watch dog of sorts. She now barks at any noise that's different & especially at strange cars in our drive. We named her "Pfirsiche vom Waldenhaus". Hope that's O.K. with you.
Thanks so much for our wonderful dog! She is very special & is the darling of the whole family!
Sincerely,
B. C.
---
Mrs. B. L.
Illinois
Dear Forrest's,
In two more days we will have had our Pieta for 1 month! Time flies - in so many ways it seems like she's always been here. She has filled a very big void in our lives & is well on her way to establishing her own legends... She seems to be completely house broken ( or trained ). We had one accident of each the first day, nothing since. We say "she's dancing around""Do you want to go out?" & up goes the ears & she prances to the door, sits, & says, "well, aren't you coming?". We sent in the AKC papers. Her name is "Greta L. Vom Waldenhaus". Impressive!
As always,
B.
* * *
Click here to view 20 more different letters of reference sent to us by our satisfied customers.


Quick Access Menu


You can reserve your German Shepherd Puppy today with a deposit on your credit card




Feel free to E-mail us at GSD@Waldenhaus.com with any questions, suggestions or tell us what you think of our web site.
Thanks for visting our online German Shepher Kennel and remember to your favorites,
Susan, Andrea, and Lucas Forrest


---