23910 Village Drive. Richland, Missouri 65556

Phone:
(417) 453-6601

&nbsp
GSD@Waldenhaus.com
"Excellence in German Shepherd Temperament is our Specialty and our Breeding Standard for Over 30 Years"

---
About Egan vom Ravenholz
OFA Certified Hips "GOOD" GS-87687G24M-VPI - OFA Certified Elbows "Normal" GS-EL28137M24-VPI - DM certified Normal #GS-DM1419/12M-PI AKC# DN29609801


Egan is a beautiful, large black and red German Shepherd stud, he has a very broad head, beautiful conformation and amazing movement! He has the most charming personality, extreamly high bonding, loves to be a lap dog as well as your constant companion. Egan is a son of the INCREDIBLE Dierks vom Haus Winheim, whom we have had many outstanding litters from. Egan's dam is a very impressive German bred black and red female named Zarby vom Schneiden. We had the opportunity to stud Dierks with this beautiful female and select a future stud to fill Dierk's place when he is retired. We are extremely pleased with Egan and we are very confident that he will easily fill this roll, he has absolutly every quality that we strive to produce in our dogs.

Egan has been certified as "Normal" through DNA testing for DM (Degenerative myelopathy), his litter by Marley will be parentage cleared normal for this genetic disorder.


"Egan"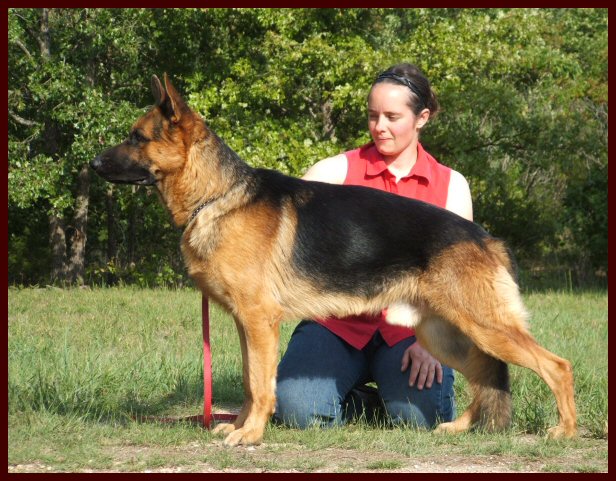 Egan summer 2012
Click here for Egan's pedigree.
---
About Marley vom Waldenhaus


OFA Hips certified free of hip dysplacia #GS-83880G29F-PI DM certified Normal #GS-DM782/32F-PI AKC# DN22830001

We thrilled to introduce our beautiful Marley vom Waldenhaus! She is a spctacular repersenative of our 3 decade long breeding program, beautiful, bright disposition, very willing to please, ideal size and structure, a beautiful head and that grogous black and red coloring!

Marley is a very motivated dog, she loves life, loves to play, has a strong interest in objects, retreiving toys and always finding new ways to show her personality. She is loving and loyal to her family, very good around other pets, small children and enjoys every new situation we expose her to, she is very solid in her disposition.

Marley is one of our best producing females, her litters are very consistant, beautiful large boned, black and red pups, puppies with very high bonding, social personalities. Marley is a true and perfect example of our 30 year breeding program.

Marley has been certified as "Normal" through DNA testing for DM (Degenerative myelopathy), her litter by Egan will be parentage cleared "normal" for this genetic disorder.


"Marley"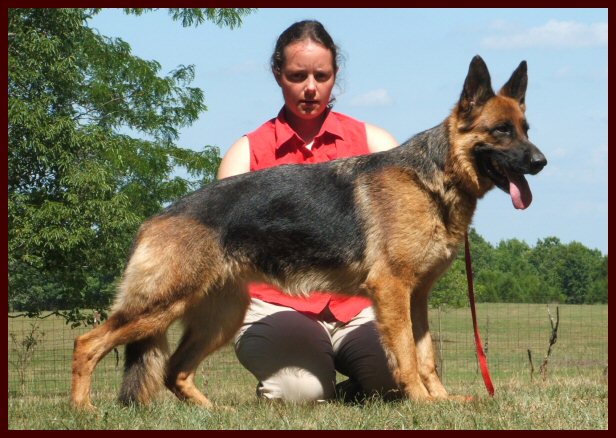 "Marley" at 3 years of age.
Click here for Marley's pedigree